Beginning in the 2022-2023 school year, Italy ISD will begin offering annual student drug testing as part of our comprehensive drug-testing program. Drug and alcohol abuse negatively affect a student's safety, personal life, health, and academic performance. With parental consent, students in grades 7-12 who plan to participate in any school-sponsored extracurricular activities, as well as student drivers, are encouraged to participate. This program will consist of an initial annual drug test as well as random testing throughout the school year. The Italy ISD School Board approved Drug Testing Guidelines and consent form can be found at this link:
https://ihs.italyisd.org/o/ihs/page/student-drug-testing

Friday Night Lights Safety and Security Reminders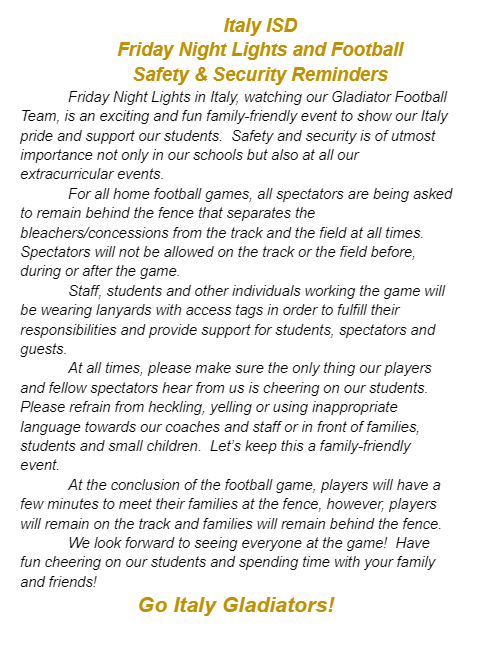 Italy Homecoming Information for this Friday HOCO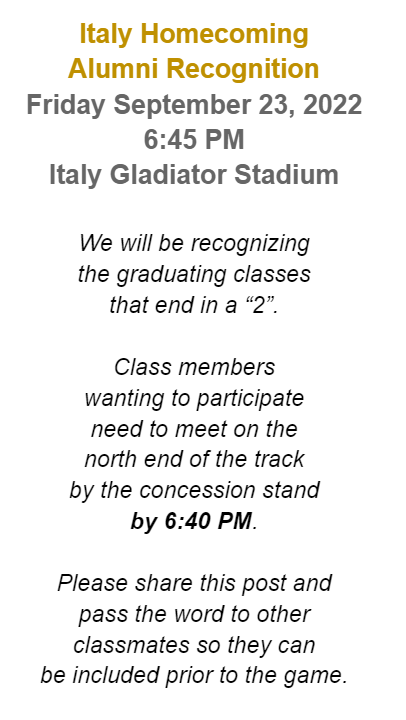 Today is Tailgate Tuesday!!!!!!!!!


The Italy ISD District Site-Based Decision Making Committee will be holding a Public Meeting on Monday, September 26, 2022 at 4:00 PM in the Italy High School Conference Room (old cafeteria) to review and discuss the 2022 STAAR district and campus ratings from TEA as required per Texas Education Code 11.253(g).

Italy Homecoming Info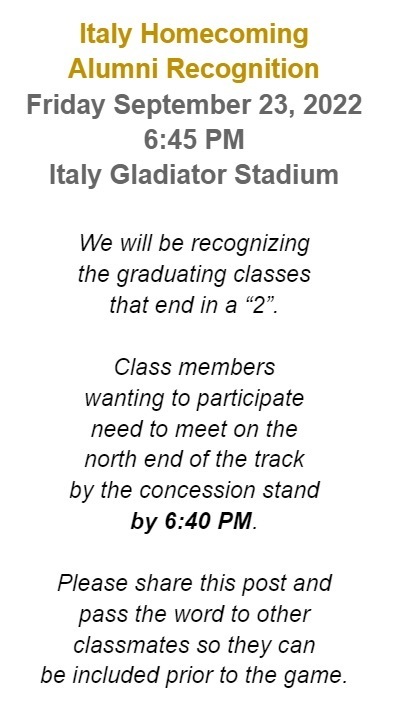 Please see Flier


Please Read.


Please Read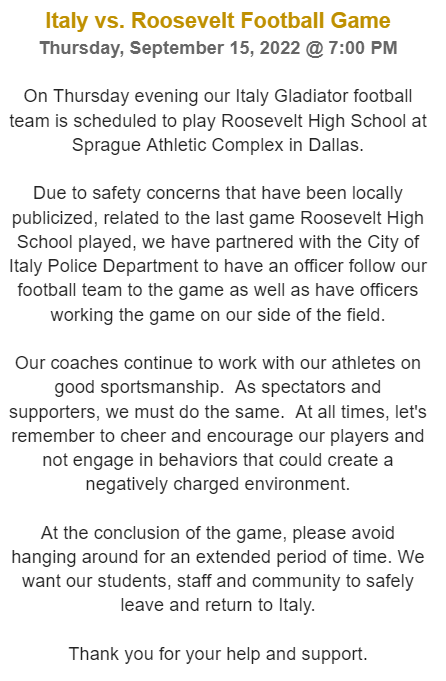 See Flier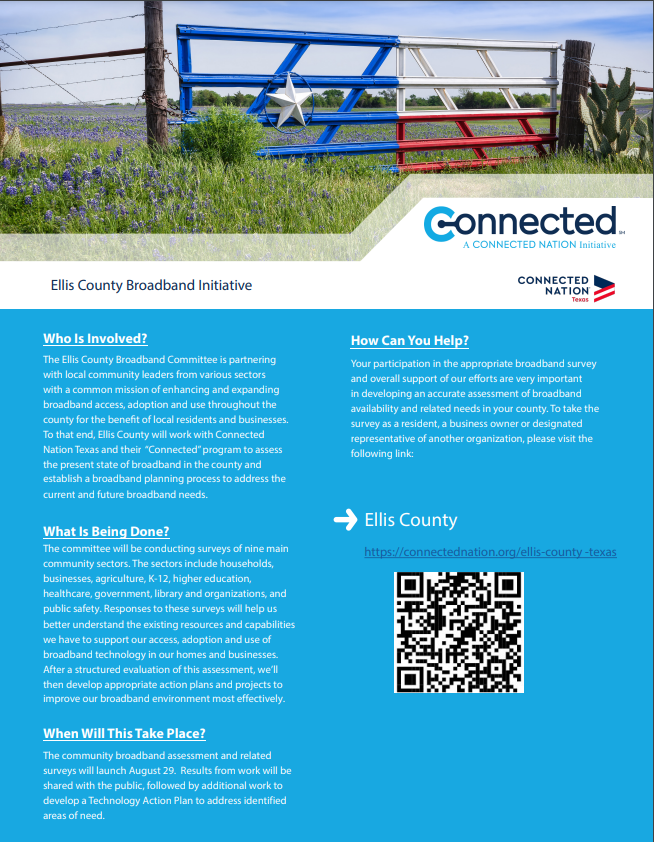 Please read.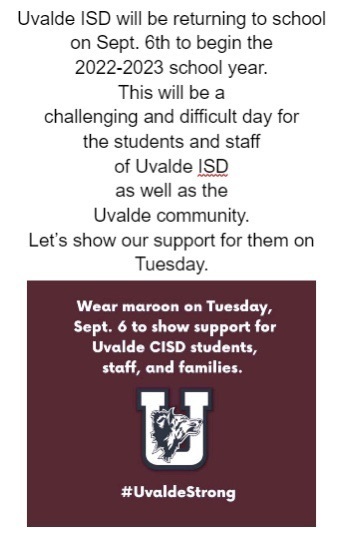 Please see flier attached.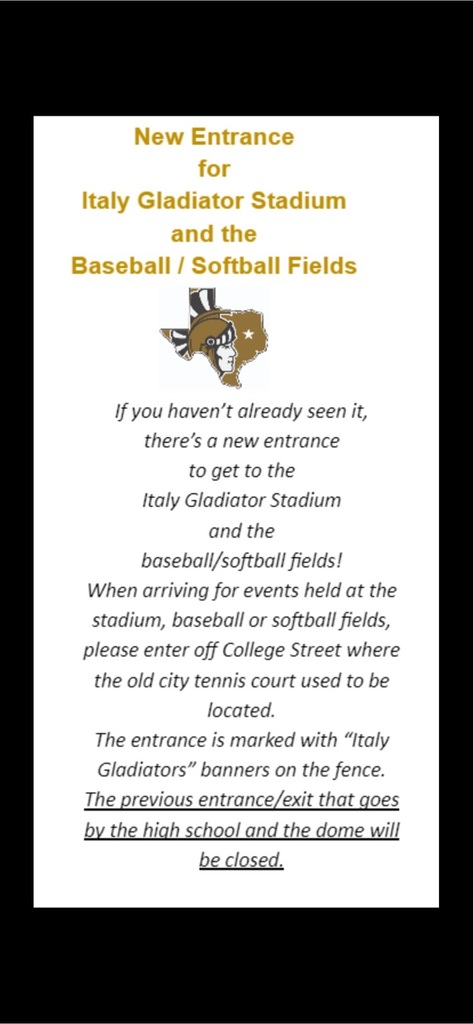 Please see attached Flier for Italy ISD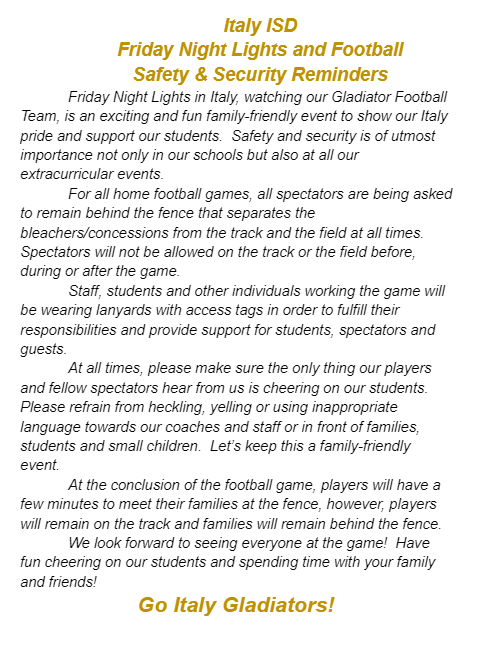 iWatch Information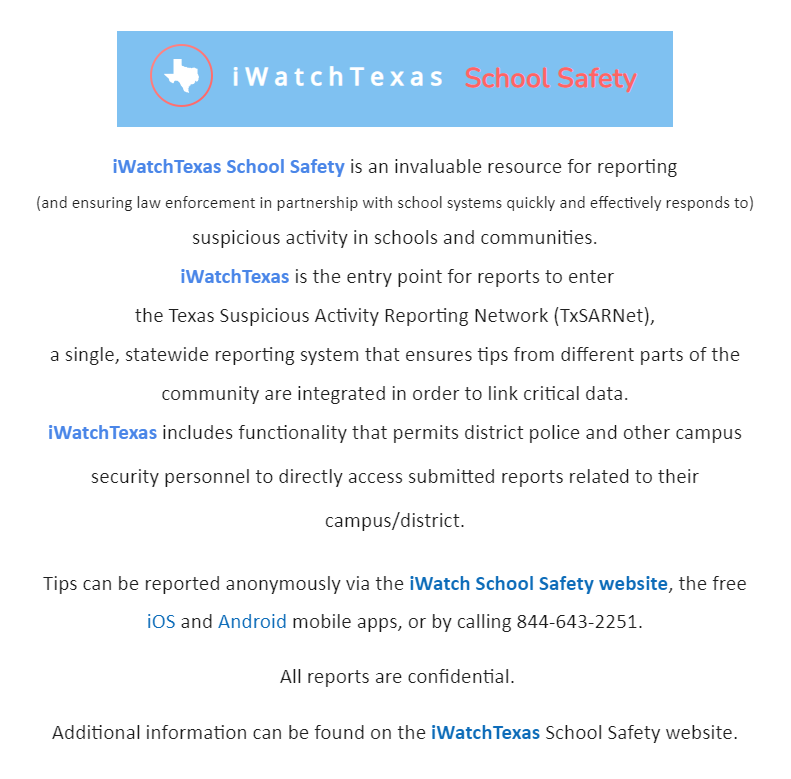 See the FFA Membership Drive Flier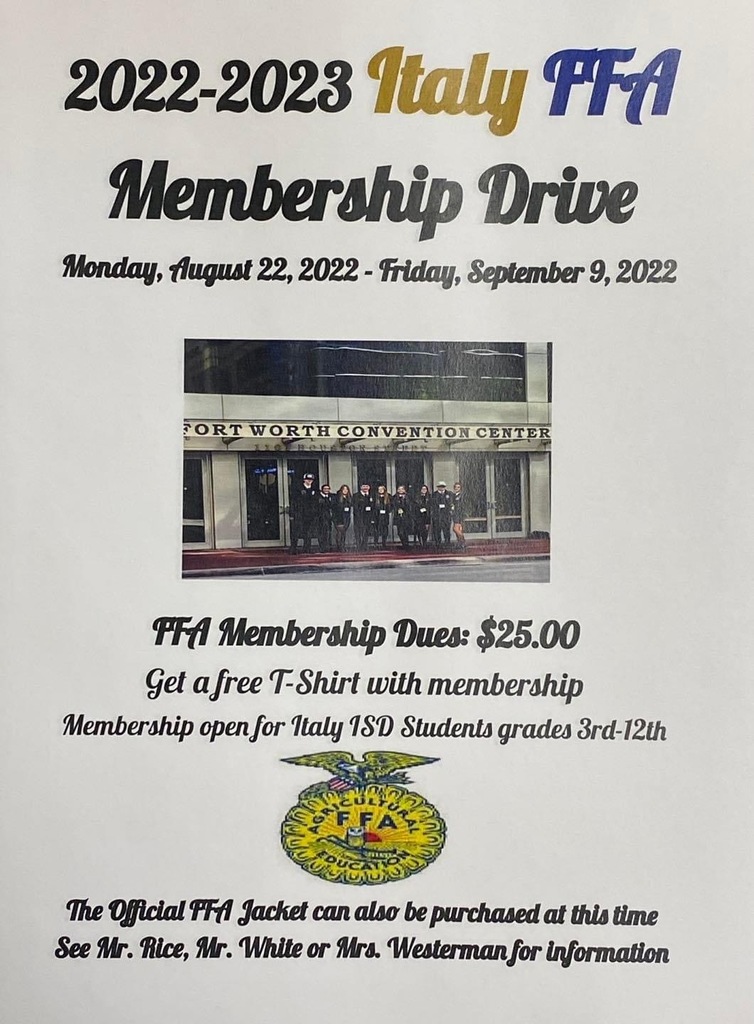 LAST CHANCE LAST CHANCE 2022-2023 Student Drug Testing; Last Chance for Initial Drug Testing is Wednesday, August 17th, at Italy High School Cafetorium Beginning in the 2022-2023 school year, Italy ISD will begin offering annual student drug testing as part of our comprehensive drug-testing program. Drug and alcohol abuse negatively affect a student's safety, personal life, health, and academic performance. With parental consent, students in grades 7-12 who plan to participate in any school-sponsored extracurricular activities, as well as student drivers, are encouraged to participate. This program will consist of an initial annual drug test as well as random testing throughout the school year. Before a student enrolled in 7th-12th grade may participate in any school-sponsored extracurricular activities, receive a District parking permit, or drive on campus, both the student and the parent/guardian shall agree in writing that the student shall submit to the initial annual drug test and subsequent random tests in accordance with the attached guidelines. The Italy ISD School Board approved Drug Testing Guidelines and consent form can be found at this link:
https://www.italyisd.org/page/student-drug-testing

*ATHLETIC BOOSTER CLUB ANNOUNCEMENT* In case you missed the meeting this past Saturday, here is what you need to know- The first Athletic Booster Meeting will be held on Monday, August 15th at 6:30pm in the high school cafetorium. On the Agenda: What to expect this year. Electing officials. Deciding on the first fundraiser. IF YOU WISH TO BE AN ELECTED OFFICIAL please see that you are able to attend and reach out with your intent to run/participate BEFORE Monday the 15th so that your name can be voted on! A Booster Sports You page has been created and can be accessed by the following code: HZP8U452

2022-2023 Student Drug Testing; Last Chance for Initial Drug Testing is Wednesday, August 17th, 2022 12:30-4:00 PM Italy High School Cafetorium Beginning in the 2022-2023 school year, Italy ISD will begin offering annual student drug testing as part of our comprehensive drug-testing program. Drug and alcohol abuse negatively affect a student's safety, personal life, health, and academic performance. With parental consent, students in grades 7-12 who plan to participate in any school-sponsored extracurricular activities, as well as student drivers, are encouraged to participate. This program will consist of an initial annual drug test as well as random testing throughout the school year. Before a student enrolled in 7th-12th grade may participate in any school-sponsored extracurricular activities, receive a District parking permit, or drive on campus, both the student and the parent/guardian shall agree in writing that the student shall submit to the initial annual drug test and subsequent random tests in accordance with the attached guidelines. The Italy ISD School Board approved Drug Testing Guidelines and consent form can be found at this link:
https://www.italyisd.org/page/student-drug-testing

Reminder this week is Safety week at Italy ISD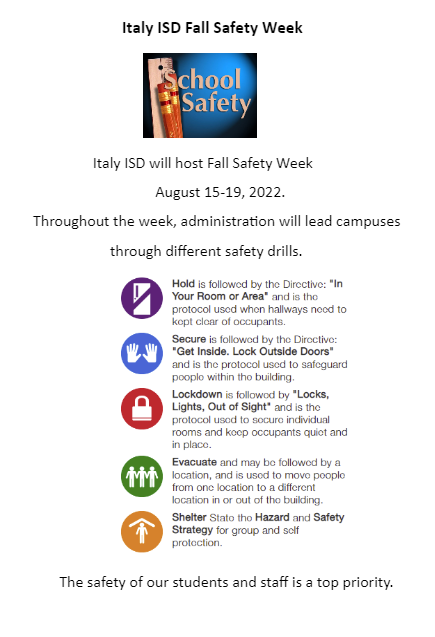 See Football Scrimmage information Flier Update