Dear Italy ISD Parents, Italy ISD Student Health Advisory Council is looking for non-employee parent volunteers. If you are interested in learning more please feel free to join our meeting next week or reach out to Kim Hopgood, RN at 972-483-7411 for further information. PUBLIC NOTICE OF SHAC MEETING: November 17, 2021 4:30 p.m. HS Old Cafeteria SHAC Meeting Agenda for November 17, 2021 1. Call to order 2. Introduction of Attendees 3. SHAC Purpose & Mission 4. Explanation of Virtual Recording 5. Future Meeting Dates: 12/8/2021, 2/9/2021, 4/13/2021 6. Approve 3/25/2021 meeting minutes 7. Review/Approve SHAC Bylaws 8. Nomination/Selection of chair/co-chair/secretary 9. Hearing, vision, immunizations 10. COVID 19 update 11. Public commentary

Italy Announcement The immunization clinic scheduled for Thursday, October 28, 2021 has been cancelled due to lack of interest and participation? Thank you. Italy ISD

10/25/2021 Dear Italy ISD Parents: IF YOU WISH TO PARTICPATE IN THE IMMUNIZATION CLINIC ON THURSDAY, OCTOBER 28, 2021, YOU MUST CONTACT NURSE DODIE AT 972-483-6342 OR NURSE HOPGOOD AT 972-483-7411 TODAY. ALL PAPERWORK IS DUE BY TOMORROW TUESDAY, OCTOBER 26, 2021! The Department of State Health Services (DSHS), Cleburne Field Office and Italy Independent School District have partnered to provide annual influenza (flu) vaccinations to eligible children at your child's school. Federally purchased vaccine is available at this event for children who DO NOT have any health insurance, or those with Medicaid. If your child has private insurance, please contact their health care provider for information regarding vaccinations. We will also be administering the HPV vaccine second dose to students who received their first dose last April with us. PLEASE DON'T MISS YOUR SECOND DOSE!! If you would like for your child to receive the flu vaccine, please contact Nurse Hopgood at 972-483-7411 or Nurse Dodie at 972-483-6342, they will collect your information and send home the appropriate paperwork in order for your child to receive the flu vaccination at the time of the clinic. All forms will need to be returned back no later than 10/25/2021. You must fill out a separate form for each student you would like to receive the vaccine. A student must be 10 years of age to receive any vaccination with only a signed consent form. Students under 10 years of age MUST have a parent present in order to receive any vaccination. If you do not return the consent form, the vaccination will not be given to your child. Depending on if your child has gotten flu vaccines in the past, some children younger than nine years of age will need two doses of vaccine spaced about 4 weeks apart. A postcard will be mailed to your home if a second dose is needed. Your child can receive the second dose of vaccine at the DSHS Field Office Clinic by calling 817-517-2306 Monday through Friday 8-5 for an appointment. If you have a current 6th grader that meets the uninsured or Medicaid requirement and would like them to receive their Tdap booster and Meningococcal Vaccinations that are required for ALL STUDENTS entering 7th grade, that can also be done at this clinic time. Please contact Nurse Hopgood for that paperwork as well. If you have any questions about any vaccine or the vaccination clinic, please call 817-517-2306. For more information on influenza please visit the Center for Disease Control and Prevention's (CDC) web site at
http://www.cdc.gov/flu
or consult your child's health care provider. Sincerely, Penny Gore, RN Kim Hopgood, RN Cleburne Field Office Italy ISD District Nurse Phone 817-517-2306 Phone 972-483-7411

10/19/2021 Dear Italy ISD Parents: The Department of State Health Services (DSHS), Cleburne Field Office and Italy Independent School District have partnered to provide annual influenza (flu) vaccinations to eligible children at your child's school. Federally purchased vaccine is available at this event for children who DO NOT have any health insurance, or those with Medicaid. If your child has private insurance, please contact their health care provider for information regarding vaccinations. We will also be administering the HPV vaccine second dose to students who received their first dose last April with us. If you would like for your child to receive the flu vaccine, please contact Nurse Hopgood at 972-483-7411. Nurse Hopgood will collect your information and send home the appropriate paperwork in order for your child to receive the flu vaccination at the time of the clinic. All forms will need to be returned back to Nurse Hopgood no later than 10/25/2021. You must fill out a separate form for each student you would like to receive the vaccine. A student must be 10 years of age to receive any vaccination with only a signed consent form. Students under 10 years of age MUST have a parent present in order to receive any vaccination. If you do not return the consent form, the vaccination will not be given to your child. Depending on if your child has gotten flu vaccines in the past, some children younger than nine years of age will need two doses of vaccine spaced about 4 weeks apart. A postcard will be mailed to your home if a second dose is needed. Your child can receive the second dose of vaccine at the DSHS Field Office Clinic by calling 817-517-2306 Monday through Friday 8-5 for an appointment. If you have a current 6th grader that meets the uninsured or Medicaid requirement and would like them to receive their Tdap booster and Meningococcal Vaccinations that are required for ALL STUDENTS entering 7th grade, that can also be done at this clinic time. Please contact Nurse Hopgood for that paperwork as well. If you have any questions about any vaccine or the vaccination clinic, please call 817-517-2306. For more information on influenza please visit the Center for Disease Control and Prevention's (CDC) web site at
http://www.cdc.gov/flu
or consult your child's health care provider. Sincerely, Penny Gore, RN Kim Hopgood, RN Cleburne Field Office Italy ISD District Nurse Phone 817-517-2306 Phone 972-483-7411

Attention Italy ISD Parents Friday, October 22nd is a Staff Development Day. No school for students.

We are taking silent sealed bids for 2001 Chevy Impala please send all bids and inquiries to Michael Chambers at
mchambers@italyisd.org
. Thank you.

Attention there has been corrections: Homecoming 2021 Festivities Homecoming: Friday, October 8, 2021 Dress-Up Days: "HOMECOMING – Fight to the Finish." Monday Bring it On-All or Nothing ( Pj's or Dress to the Nines) Tuesday Bring it On-In It to Win It (Tailgate Tuesday) Wednesday Bring it On-World Wide (Color Wars) *see below Thursday Bring It On-Again (Dynamic Duo) Friday Bring it On-Fight to the Finish (Gold Out) *Color War Colors: Srs (purple), Jrs (blue), Sophs (yellow), Fish (red), 8th (green), 7th (orange), 6th orange, 5th (red), 4th (lime green), 3rd (white), 2nd (purple), 1st (blue), K (green), Pre-K (yellow), Teachers (pink) Parade Information: Line Up begins at 1:30 – Due to field house construction, ALL floats and parade entries will enter through the main entrance by dome to line up. Leave the area between College Street entrance and back of dome for police and high school groups. Parade starts at 2:00. *If your group or organization would like to enter a float, please contact Mrs. Holley at
krholley@italyisd.com
or at 972.483.7411. Pep Rally will be in dome immediately after parade. Come join the fun and watch the crowning of the 2021 homecoming king. George Scott Dinner has been canceled this year due to Covid19. Alumni Recognition: Classes ending in "1" will be recognized during half-time after the presentation of the court. Alumni, wishing to participate, need to gather in front of the concession stand. Game: Italy vs Marlin, 7:00 kick-off. Presentation of court & band performance at half-time.

Friday Night Lights in Italy, watching our Gladiator Football Team, is an exciting and fun family-friendly event to show our Italy pride and support our students. Safety and security is of utmost importance not only in our schools but also at all our extracurricular events. Beginning this Friday evening at our homecoming football game and continuing at all future games, some additional safety protocols will be reinstated at our stadium. All spectators are being asked to remain behind the fence that separates the bleachers/concessions from the track and the field at all times. Spectators will not be allowed on the track or the field before, during or after the game. Staff working the game will be wearing lanyards with access tags in order to fulfill their responsibilities and provide support for students, spectators and guests. At all times, please make sure the only thing our players and fellow spectators hear from us is cheering on our students. Please refrain from heckling, yelling or using inappropriate language towards our coaches and staff or in front of families, students and small children. Let's keep this a family-friendly event. At the conclusion of the football game, players will have a few minutes to meet their families at the fence, however, players will remain on the track and families will remain behind the fence. After that, Italy football players will be directed to the new fieldhouse area where they will be taken by bus back to the dressing rooms at the high school and can be picked up in the parking lot by the Ag Shop and the Dome. Band members will be dismissed as usual under the guidance of our band directors. We look forward to seeing everyone at the game! Have fun cheering on our students and spending time with your family and friends! Go Italy Gladiators! Rachel L. Kistner Italy ISD Superintendent "One Voice, One Direction, One Team" 972-483-1815
rkistner@italyisd.org



The Ag Dept built and put up two sand boxes, along with four planter boxes at Stafford Elementary today. A special thanks to Dr. Mathis for the idea and materials! Johnny White Agricultural Mechanics Italy High School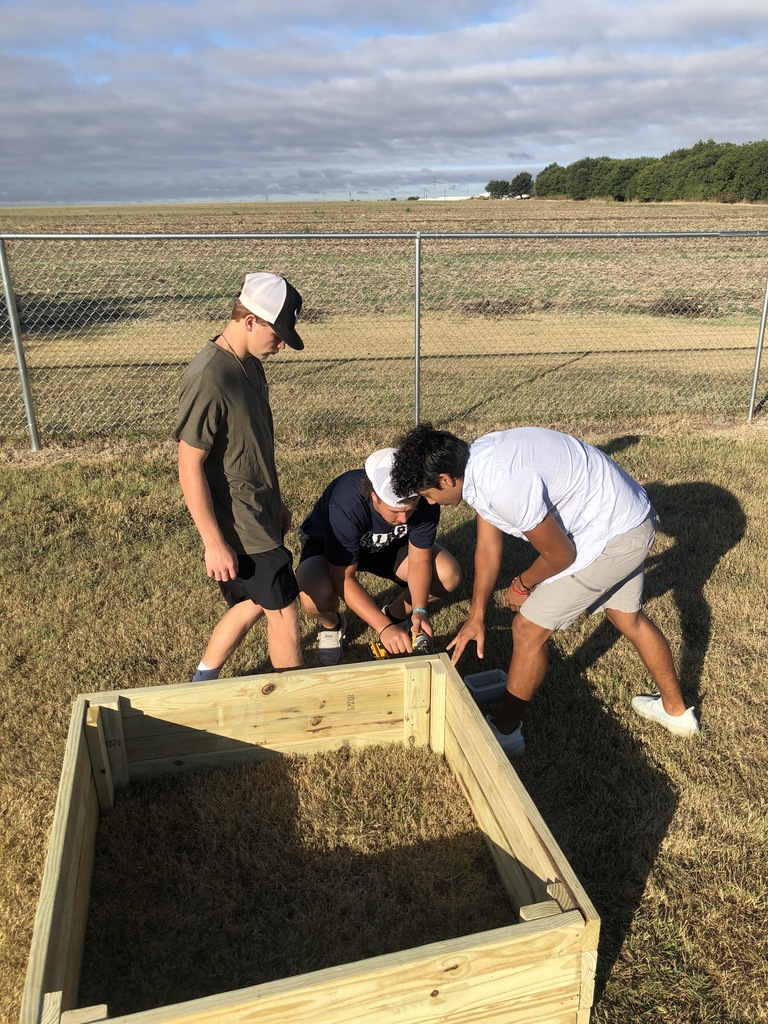 Estimados padres del Italy ISD: El personal del anuario se complace en anunciar la venta anticipada del anuario (yearbook) 2021-22. ¡Nuestro personal del anuario son todos nuevos, muy motivados y tenemos grandes metas para el libro de este año! ¡Nuestra meta más grande para el anuario 2021-22 es incluir a cada estudiante en el distrito escolar por lo menos tres veces! La campaña de venta anticipada comienza el lunes 13 de septiembre del 2021 hasta el viernes 24 de septiembre del 2021. El precio de venta anticipada del anuario será de $35. ¡TODOS los pedidos de anuarios tendrán que hacerse en línea! Por favor NO envíe dinero para comprar anuarios. La venta anticipada termina después del 24 de septiembre de 2021 y el precio aumentará a $40. El anuario se publicará en el otoño de 2022, esto permitirá que el personal incluya la graduación, los playoffs de primavera y posiblemente eventos a principios del verano si es necesario. Venta del anuario ¡El anuario está ahora a la venta por el precio más bajo del año! Este año el libro incluirá todas las escuelas de Italy ISD. Pida su copia antes del viernes 24 de septiembre para aprovechar esta oferta. Oferta de bono: ¡Obtenga cuatro iconos gratis con la compra de una línea de personalización! Esta oferta expirará el 24 de septiembre, ¡así que ordene hoy! Haz tu pedido en línea en
http://jostensyearbooks.com/?REF=A08345800
¡Reprodúcelo! ¡Padres, estudiantes y personal necesitamos su ayuda! Para cumplir con nuestra meta de incluir a todos en nuestro anuario tres veces necesitamos que nos envíen sus fotos. Estamos buscando fotos de grupo con muchas sonrisas, estudiantes, padres y personal participando en las actividades del día a día. ¡La plataforma para enviar sus fotos se llama Replay It! Esto permitirá a cualquier persona subir fotos a nuestra base de datos del anuario mediante el siguiente enlace. Enlace a REPLAY IT Photos
https://images.jostens.com/416225844
Anuncios de negocios ¿Tienes un pequeño negocio y quieres anunciarte en el anuario? Les estamos enviando un folleto sobre cómo hacer un anuncio de negocios en el Anuario 2021-2022. Estamos trabajando en hacer incentivos para los estudiantes que venden anuncios de negocios en el anuario. La compra de espacio para anuncios en el anuario nos ayudará a comprar equipo y a bajar el costo total de los futuros libros. A continuación hay un enlace de cómo comprar un anuncio por favor, póngase en contacto con Jeremiah Glover para más preguntas en
jglover@italyisd.org
Anuncios de negocios
https://www.jostens.com/apps/shop/yrbk_ra_inschool.asp?CID=150576&PFID=2021090
204184719060 Padres de alumnos de Kindergarten: Anuncios para estudiantes Estamos ofreciendo a los padres de los estudiantes de Kindergarten colocar anuncios con buenos deseos en su viaje educativo. Estos anuncios serán de 1/8 de página sin fotos, sólo un cuadro de texto de color sólido y están limitados a 280 caracteres. Si un padre decide comprar este tipo de anuncio para el anuario, el precio es de $20 por anunico y tendrá que ser pagado en su totalidad antes del 8 de abril de 2022 a Italy ISD (Anuario). Por favor, póngase en contacto con el Sr. Jeremiah Glover en
jglover@italyisd.org
sobre cómo ordenar, pagar y diseñar estos anuncios. Padres de familia del escuela secundaria superior: Anuncios para Senior Estaremos vendiendo anuncios para los padres de Senior. Estos son anuncios de buenos deseos para sus futuros esfuerzos. Los precios de los anuncios para los Senior son los siguientes; $130- Página completa, $80- Media página, $40- Cuarto de página, $20- 1/8 de página. Los padres tendrán que hacer una cuenta de jostens para diseñar los anuncios en línea. Los padres serán responsables de comprar el espacio publicitario en línea y diseñar los anuncios a través del programa jostens. Se adjunta el enlace para diseñar estos anuncios. Anuncios
https://www.jostens.com/apps/store/ybAdDesigner/1079390/-/20210901133326437135/
CATALOG_SHOP/ Esperamos poder compartir fotos y recuerdos en los años venideros. Gracias, Jeremiah J. Glover Asesor del anuario de Italy ISD Please click link for AD
https://5il.co/yvtj

Dear Italy ISD Parents, The Yearbook staff is excited to announce the Early Bird sale of the 2021-22 yearbook. Our yearbook staff is all brand new, highly motivated and we have big goals for this year's book! Our biggest goal for the 2021-22 yearbook is that we want to include every student in the school district at least 3 times! The Early Bird sales drive starts Monday, September 13, 2021 through Friday, September 24, 2021. The Early Bird sales price for the yearbook will be $35. ALL Yearbook orders will need to be placed online! Please DO NOT send any money to purchase yearbooks. Early Bird sale ends after September 24, 2021 the price will increase to $40. The yearbook will be released in the FALL of 2022, this will allow for the staff to include graduation, spring playoffs and possibly events early in the summer if needed. Yearbook Sales The yearbook is now on sale for the lowest price of the year! This year the book will include all Italy ISD schools. Order your copy by Friday, September 24th to take advantage of this offer! Bonus Offer: Get 4 icons for free with the purchase of a line of personalization! This offer will expire on 9/24, so order today! Order online at
http://jostensyearbooks.com/?REF=A08345800
Replay It! Parents, Students and staff we need your help! To meet our goal of including everyone in our yearbook 3 times we need your photo submissions. We are looking for group shots with lots of smiles, students, parents and staff participating in day to day activities. The tool to submit your pictures is called Replay It! This will allow anyone to upload pictures to our yearbook database by using the link below. Replay IT Photos Link
https://images.jostens.com/416225844
Business Advertisements Do you own a small business and want to advertise in the yearbook? We are sending you a flyer on how to do a business advertisement in the 2021-2022 Yearbook. We are working on making incentives for students that sell business ads in the yearbook. Buying space for Ad's in the yearbook will help us buy equipment and lower the overall cost of future books. Below is a link of how to purchase an advertisement please contact Jeremiah Glover for more questions at
jglover@italyisd.org
Business Ads
https://www.jostens.com/apps/shop/yrbk_ra_inschool.asp?CID=150576&PFID=2021090
204184719060 Parents of Kindergarteners: Student Advertisements We are offering parents of Kindergarten students to place advertisements with well wishes in their educational journey. These advertisements will be 1/8th of a page with no pictures, only one solid color text box and are limited to 280 Characters. If a parent chooses to purchase this kind of ad for the yearbook, the price is $20 per advertisement and will need to be paid in full by April 8, 2022 to Italy ISD (Yearbook). Please contact Mr. Jeremiah Glover at
jglover@italyisd.org
on how to order, pay and design these advertisements. Senior Parents: Senior Advertisements We will be selling ads for Senior parents. These are advertisements for well wishes for their future endeavors. The prices for Senior Ads are listed as follows; $130- Full page, $80- Half page, $40- Quarter page, $20- 1/8 page. Parents will need to make a jostens account to design the ads online. Parents will be responsible for purchasing ad space online and designing the ads through the jostens program. Attached is the Link to design these ads. Senior Ads
https://www.jostens.com/apps/store/ybAdDesigner/1079390/-/20210901133326437135/
CATALOG_SHOP/ We look forward to sharing photos and memories for years to come! Thank You, Jeremiah J. Glover Italy ISD Yearbook Advisor

The Italy ISD School Board met in a Special Session this afternoon to review and consider amending the current Italy ISD COVID-19 Protocols. Amendments were made with the addition of guidelines for "Individuals With Symptoms But Are Not Positive for COVID-19" and revisions to the "Confirmed Exposure" guidelines. Nothing related to masks was changed. Masks are optional for all students and staff. Information on the City of Italy COVID-19 testing site that opens on September 20, 2021 was also added to the guidelines. Click on Link to the New Covid-19 Protocols
https://5il.co/yvta

Jr High Volleyball Parents Attention Please: The Jr High Volleyball Oct 11 game in Kopperl has been moved to Oct 13th in Kopperl. Both A and B teams will play at their gym. The B team game will start at 5pm and the A team game will start after B team finishes.

Reminder: Italy ISD will hold a Professional Development Day this Friday, September 3rd. Students do not have school and school offices are closed. Extra-curricular events are being planned as usual, but keep an eye out for notifications or postings of any changes that may occur as a result of the current COVID situation. Monday is Labor Day and a school holiday for students and staff. School offices will also be closed in observance of the holiday.

COVID Dashboard Italy ISD will be posting and maintaining a COVID dashboard on the district website to keep our community, families and staff informed of positive COVID cases within the school district. It will be updated throughout the week. The district website can be found at
https://www.italyisd.org/page/covid-19-case-dashboard

August 18, 2021 P-EBT Announcements The Pandemic-Electronic Benefits Transfer (P-EBT) helped millions of Texas children who temporarily lost access to free school meals during the 2020-2021 school year. The U.S. Department of Agriculture recently added a one-time summer P-EBT summer benefit. Eligible families may be able to receive an additional $375 to supplement their family's budget during the covered summer period Families that submit a household application before August 28 and meet one of the following criteria may receive the $375 Summer Pandemic-Electronic Benefit Transfer (P-EBT) through a direct distribution from the Texas Health and Human Services Commission (HHSC). • Are newly eligible for P-EBT based on a change in family income after June 30, 2021 or are income eligible and did not have a household application on file during the 2020-2021 school year. • Have not yet applied for P-EBT and have children who were certified for free or reduced-price meals through the National School Lunch Program (NSLP) and enrolled in an NSLP school in the last month of the 2020-2021 school year. Note: These families must submit applications through MyTexasBenefits. Schools should ensure parents can access the NSLP household application so families can obtain summer PEBT benefits. *Campuses that will be operating CEP for the first time in SY 21/22 MAY ONLY process TEA's Socio Economic Status (SES) Form to demonstrate eligibility for children.* Additional Information for Schools and Families The deadline to apply for P-EBT benefits through
https://yourtexasbenefits.com/Learn/PEBT
. (The link is case sensitive.) is September 13. Household eligibility for the 2020-21 school year P-EBT benefits cannot be changed at this time. We are working with the HHSC call center to field questions from families and to ensure that correct information is being shared. Household applications received after August 28, 2021, should be processed but cannot be used to determine eligibility for Summer P-EBT. More Reasons to Encourage Families to Complete their Household Applications before the August 28 Deadline Families that experienced a reduction in income over the covered summer period may be eligible for Summer P-EBT Benefits Completing a household application may benefit their family and your school. Use this flyer to encourage families to complete a household application now or in the future to ensure they have access to the many benefits it provides. A Message for Families: If your household experienced a reduction in income after June 30, 2021 or did not complete an household application in SY 2020-2021, now is the time to complete the household school meal application to determine eligibility for the Summer P-EBT benefit. Submit this form to your child nutrition department before August 28, 2021, to demonstrate eligibility for Summer P-EBT. Summer PEBT provides a $375 to supplement a family's food budget during the covered summer period with a EBT benefit card. Eligible families are encouraged to demonstrate eligibility for a one-time summer Pandemic-Electronic Benefit Transfer (P-EBT) benefit by submitting the household school meal application before August 28, 2021. P-EBT for the 2020–2021 school year (August 2020 to June 2021) was for families with children who were certified for free or reduced-price meals through the National School Lunch Program and families with children born after Aug. 1, 2014, who receive Supplemental Nutrition Assistance Program (SNAP) food benefits. Eligibility for these benefits has already been established and cannot be updated at this time.

Italy ISD Health Services Students, teachers, and staff who have symptoms of infectious illness, such as influenza or COVID-19, should stay home and be referred to their healthcare provider for testing and care. Staying home when sick with COVID-19 is essential to keep COVID-19 infections out of schools and prevent spread to others. Confirmed Positive: School systems must exclude students from attending school or any school events in person who are actively sick with COVID-19 or who have received a positive test result for COVID-19. Parents must ensure they do not send a child to school on campus if the child has COVID-19 symptoms or is test-confirmed with COVID-19 until the conditions for re-entry are met. The readmission criteria for COVID-19 is as follows: If symptomatic, exclude until at least 10 days have passed since testing positive, are fever free without fever reducing medication for 24 hours, and other symptoms have improved. Children who test positive for COVID-19 but do not have any symptoms must stay home until at least 10 days after they day they were tested. Confirmed Exposure: School systems are not required to conduct contact tracing. Members within the household of a COVID positive individual will be considered close contacts. Anyone who has had close contact with someone with COVID-19 should stay home for 10 days after their last exposure to that person. However, anyone who has had close contact with someone with COVID-19 and who meets the following criteria does NOT need to stay home. • Someone who has been fully vaccinated and shows no symptoms of COVID-19. However, fully vaccinated people should get tested 3-5 days after their exposure, even if they don't have symptoms and should wear a mask indoors for 14 days following exposure or until their test result is negative. OR • Someone who has had COVID-19 illness within the previous 3 months AND • Has recovered AND • Remains without COVID-19 symptoms (for example, cough, shortness of breath) Notifications: Italy ISD will only notify the student, student's parents, and staff of specific lab confirmed COVID cases, and request that they self-monitor for 14 days. If any individual feels as if they, or their student, was a close contact of a lab confirmed positive COVID case, said individual is to report such information to campus administration and it will be investigated on a case by case basis by the Italy ISD COVID response team for further appropriate action. Italy ISD will communicate through a letter to the parents when a COVID positive case has been identified on their child's campus. No specific student information will be included. Italy ISD will notify the proper authorities of a confirmed case in the school. Classwork during Quarantine: When quarantined at home, students are encouraged to monitor activities and assignments on their Google classroom accounts and complete work as much as they are able. Communication with teachers through Google classroom and email is encouraged as they complete assignments. This will help to minimize the long term effects on their academic progress up their return. REV: 08/19/2021

School starts TOMORROW, August 16th bright and early for all Italy High and Jr. High School students!!!!! We are SO excited to see everyone tomorrow morning!! The bell rings at 8:00 for 1st period! Don't be TARDY!! Doors will open by 7:20 and breakfast will begin soon. All students will be able to have free breakfast and lunch for this school year. If students have their schedule, they will go on to class at 8:00. For any student who does not already have a schedule, parents will need to make sure all registration is completed before a schedule will be given to a student. Any student requesting a schedule change will follow their current schedule until schedules are officially changed. Students should come in dress code ready to hit the ground learning! School will be dismissed at 3:40. #OneTeamOneItaly